What's New?



Save 25% &
Free Shipping


Is a Wrightslaw Training
Coming to Your State?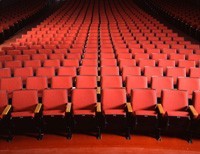 Check Out the Full Schedule thru 2015

Wrightslaw Multi-Media Training Programs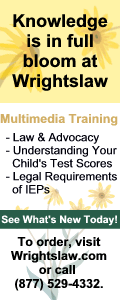 More Resources from Wrightslaw
Special Ed Advocate Newsletter
It's Unique ... and Free!

The Beacon: Journal of Special Ed Law & Practice

From Emotions to Advocacy
Best School Websites

Consultations
Interested in saving money on
Scratch-n-Dent
copies of
Wrightslaw publications?

Benefit from overstocks!
Limited quantities!

Call 877-529-4332
to place your order.
To search for a resource listing in a different state, return to the state pages.
Search Tip: So you don't have to scroll through pages of addresses on your state page, do this: With Windows, press Control, letter F, with Mac press Command, letter F, then type in your city, zip code, or other search criteria. Try zip codes for other nearby towns.

Those listings containing an asterisk (*) have sponsored a Wrightslaw conference.

---
Admiral E. A. Barham, 33°, Scottish Rite Speech and Hearing Clinic
205 University Avenue
Monroe, LA 71203-3701
(318) 343-6388
Advocacy Center
8325 Oak Street
New Orleans, LA 70118
(800) 960-7705; (504) 522-5507 (fax)
Email: advocacycenter | at | advocacyla.org
Web: http://www.advocacyla.org
The Advocacy Center (AC) is a non-profit corporation that protects and advocates for the human and legal rights of persons with disabilities living in Louisiana. AC is a member organization of the National Disability Rights Network.
Allen Learning Company, L.L.C.
Sandra Allen
933 North Trenton Street
Ruston, LA 71270
(318) 255-4543; (318) 251-0574
Email: allenlearningco | at | hotmail.com
Web: http://sandyallen.processingskills.com
PACE & Master the Code Student/Parent Advocacy Reading Clinics Workshops for Parents, Teachers, Students
American Foundation for the Blind-Southwest
260 Treadway Plaza, Exchange Park
Dallas, TX 75235
(214) 352-7222
Email: dallas | at | afb.net
Web: http://www.afb.org/
UCP of Baton Rouge - Children's Developmental Center
1805 College Drive
Baton Rouge, LA 70808
(225) 923-3420
Email: CDCJanet | at | aol.com

UCP of Greater New Orleans
1000 Leonidas Street and Leake Avenue
New Orleans, LA 70118
(504) 865-0003
Email: info | at | ucpgno.org
Web: http://www.ucp.org/ucp_local.cfm/79
University Centers for Excellence in Developmental Disabilities
Human Development Center
School of Allied Health Professions
LSU Health Sciences Center
1100 Florida Avenue, Building 138
New Orleans, LA 70119
(504) 942-8200; (504) 942-5900 (TDD/TTY)
Email: kdwyer | at | lsuhsc.edu
Web: http://www.hdc.lsuhsc.edu/default.htm
Up4Downs Of SWLA
Debbie Seaux
110 E 3rd St.
Iowa, LA 70647
(337) 582-6138
Email: downhome214 | at | centurytel.net
Web: http://up4downswla.org
Parent support, information and advocacy organization.
Up With Downs
450 Railsback Rd
Shreveport, LA 71106
(318) 797-8575
Email: dcajng | at | yahoo.com
Web: www.upwithdowns.com
VSA arts of Louisiana
Department of Education
2758-D Brightside Lane
Baton Rouge, LA 70820
(225) 761-4243 (V/TTY)
Email: vsalouisiana | at | bellsouth.net
Web: http://la.vsarts.org/

Total Education Solutions provides special education services in various settings


Bass Educational Services college planning for students with LD/ADHD

Special education program support and transition services. Learn More!