Is a Wrightslaw Training
Coming to Your State?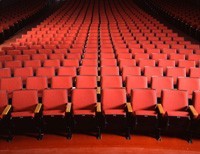 Check Out the Full Schedule thru 2015

Wrightslaw Multi-Media Training Programs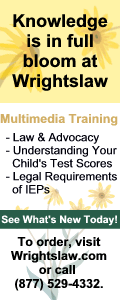 More Resources from Wrightslaw
Special Ed Advocate Newsletter
It's Unique ... and Free!

The Beacon: Journal of Special Ed Law & Practice

From Emotions to Advocacy
Best School Websites

Consultations
Interested in saving money on
Scratch-n-Dent
copies of
Wrightslaw publications?

Benefit from overstocks!
Limited quantities!

Call 877-529-4332
to place your order.
To search for a resource listing in a different state, return to the state pages.
Search Tip: So you don't have to scroll through pages of addresses on your state page, do this: With Windows, press Control, letter F, with Mac press Command, letter F, then type in your city, zip code, or other search criteria. Try zip codes for other nearby towns.

Those listings containing an asterisk (*) have sponsored a Wrightslaw conference.

---
A.D.D. In Focus Coaching & Advocacy
273 Main Street
Yarmouth, ME 04096
(207) 776-2987
Email: 4Saints | at | Maine.rr.com
Helping students and adults struggling with ADD and/or executive function deficits. Providing support and advocacy within IEP process.
A.D.D. with EASE
Laurie Moore Skillings
P.O. Box 3851
Portland, ME 04104-3851
(207) 878-ADHD (2343)
Email: laurie | at | addwithease.com
Web: http://addwithease.com
Strength-based, co-active ADHD coaching for families to help them Advance Day by Day with Encouragement, Accountability, Support, and Empowerment (A.D.D. with E.A.S.E.).
---

To Add, Change or Correct Yellow Pages Listings

To add, change or correct a listing, or to advise us of changes to an address, phone, website, or email, please fill out our application form so that we can add the listing or change the information.

Thank You.

Copyright © 1999-2014, Peter W. D. Wright and Pamela Darr Wright. All rights reserved.

Contact Us @ webmaster | Mission | Press | Disclaimer | Link to Us

Website Designed & Maintained by: Jackie D. Igafo-Te'o
Total Education Solutions provides special education services in various settings


Bass Educational Services college planning for students with LD/ADHD

Special Education Assessments, Guidance & Transition Planning Services Learn More!