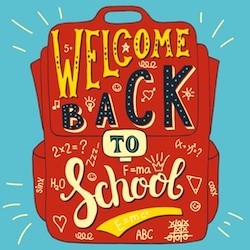 Back to School Sale
25% Off
and
Free Shipping!
The Advocate's Store

Is a Wrightslaw Training
Coming to Your State?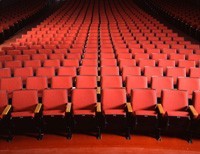 Check Out the Full Schedule thru 2016

When is Wrightslaw
Coming to My City?
Wrightslaw Multi-Media
Training Downloads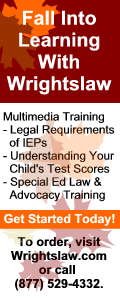 More Resources from Wrightslaw
Special Ed Advocate Newsletter
It's Unique ... and Free!

The Beacon: Journal of Special Ed Law & Practice

From Emotions to Advocacy
Best School Websites


Interested in saving money on
Scratch-n-Dent
copies of
Wrightslaw publications?

Benefit from overstocks!
Limited quantities!

Call 877-529-4332
to place your order.
To search for a resource listing in a different state, return to the state pages.
Search Tip: So you don't have to scroll through pages of addresses on your state page, do this: With Windows, press Control, letter F, with Mac press Command, letter F, then type in your city, zip code, or other search criteria. Try zip codes for other nearby towns.

Those listings containing an asterisk (*) have sponsored a Wrightslaw conference.

---
Able to Serve
Rachel Barnes
157 Technology Drive
Garner, NC 27545
(919) 779-5545
Email: rachel | at | abletoserve.org
Web: http://www.abletoserve.org
Non-Profit ministry serving people of all ages with special needs through programs including Computer Learning Center, Computer Donations, Van Transportation, Local Ministry Network, and Community Partnerships.
Advocates for Children's Services, Legal Aid of NC
Jason Langberg, Esq.
224 South Dawson Street
Raleigh, NC 27601
(919) 675-1717
Email: julian | at | legalaidnc.org
Web: http://legalaidnc.org/acs
ACS provides legal representation for low-wealth students in NC public schools. ACS also provides free trainings and resources about the legal rights of students.
AG Academy
Leopolda Ramos
110 Towerview Ct.
Cary, NC 27513
(919) 335-3276
Email: myagkid | at | gmail.com
Web: http://www.myagkid.com
NOW accepting applications for our preschool program for next school year for ages 2-5 & track out/summer camps for ages 5-12.
Albemarle Speech and Language Center
Hilary A Dietrich M.S. Ed., CCC-SLP
503 W. Main St
Elizabeth City, NC 27909
(252) 338-8288; (252) 338-8286 (fax)
Email: hdietrich | at | albemarlespeech.com
Web: http://www.albemarlespeech.com
Our practice provides caring, compassionate and sensitive Speech-Language Therapy services to children in Northeastern North Carolina's seven county area: Pasquotank - Camden - Perquimans - Chowan - Currituck - Dare - Gates
Allied Psychophysiology
Lee Porter, NP, CS
2018 Eastwood Road
Wilmington, NC 28403
(910) 509-7115; (888) 562-3550 (fax)
Email: admin | at | alliedpsych.com
Web: http://www.alliedpsych.com
Clinic for assessment and treatment of attention deficit, brain injury, and neuropsychiatric disorders. Pediatric services available: Variables of Attention Testing, Quantitative EEG brain function maps, Neurofeedback, Biofeedback.
Total Education Solutions provides special education services in various settings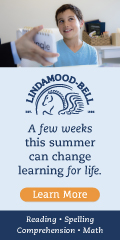 Special education program support and transition services. Learn More!